You are here: Home > Windschläger Bott
D´r Windschläger Bott
Berichtenswertes aus Vergangenheit und Gegenwart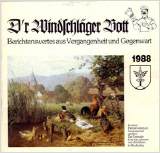 D'r Windschlaeger Bott is an annual digest published since 1988 by the Foerderverein Dorfgeschichte. The subheader reads "Berichtenswertes aus Vergangenheit und Gegenwart" which in English, translates to "News from the past and present, which is also a clue to the content of the publication. D'r Windschlaeger Bott chronicles village life and events of each year, and also features a number of articles about historical milestones and occurences. A small and dedicated group of individuals regularly interview historians and ancestors who maz have information about ongoing projects, dig through old files, church books, and newspaper articles, as well as collect old photographs.

Activities and important events of local clubs and organizations are documented as well. A year in review feature with numerous photographs is another highlight of each issue. Furthermore, information on First Graders and those who receive their First Communion can also be found, along with names and photographs of each group.

D'r Windschlaeger Bott retails for 5 Euros and can be bought at the mayor's office in Windschlaeg.